Next Generation Air Purification
Airofresh's 'P' technology for areas where people work, play and rest.
"Clean shared air is now a necessity in business. Airofresh provides peace of mind by cleaning the air even after it has passed through the system, eliminating mould, bacteria, viruses, and gases – reducing workplace sickness and business downtime."
What does an
Airofresh Air Purifier do?
The COVID-19 pandemic has placed an emphasis on ensuring that businesses are equipped with an air purification system to clean air from harmful gases and prevent airborne pathogens from infecting staff or visitors.
Australian-invented, manufactured and distributed, Airofresh air purifiers have the unique ability to destroy airborne contaminants without using chemical applications or physical capture and store filters. Unlike other options on the market, Airofresh air purifiers continue to clean the air even after it has left the system. The Airofresh air purifiers' Infection Control technology capability is broad, proven, unique and effective in destroying airborne allergens, viruses, pathogens, fungi, mould, bacteria and gases.
With its quiet operation, an Airofresh air purifier produces clean air both without disturbance or residue on furniture or fittings. This emerging air purification technology is carbon neutral, organically certified, and has won environmental and sustainability awards across Australia.
Airofresh air purifiers use a unique, globally patented method to improve air quality. The air purifier functions by using existing water vapour to eliminate contamination. The Airofresh "High Intensity Oxidation Module" (HIOM) creates an intensely reactive gaseous oxidation chamber which destroys physical, biological and gaseous contaminants, delivering improved air quality without the use of activated carbon filters, pre filters or HEPA filters. The Airofresh automatic air quality monitor system is flexible, smart and presents an affordable air purification solution to suit a wide range of applications.
Environmentally
Sustainable Air Quality
An Airofresh air purifier produces highly reactive yet short-lived components that destroy viruses, fungi, mould, bacteria and gases.
Airofresh air purifiers do not generate ozone and are far more efficient than ion, high efficiency particulate air (HEPA), or catalytic air purifiers. An Airofresh air purifier has atmosphere outcomes designed for use as a safe Infection Control method, with no harmful residues or capture or replacement filters.
This new Australian-made clean air solution adds to our suite of innovative and environmentally sound Infection Control solutions that also includes Nanocyn – a disinfectant and sanitiser that has recently been certified as being able to kill COVID-19 and other viruses in just 15 seconds. As the only technology of its type, Airofresh is the best, nationally-manufactured air purifier Australia has to offer.
via servicefmTM
Drakes Supermarkets installs Airofresh
A few of our happy customers
Airofresh's range of units operates a highly-reactive module that is constantly generating unique capability single-oxygen hydrons and hydroxyl ions, which destroy dangerous airborne viruses and bacteria, as well as atmosphere contaminants.
This unique process produces outcomes not available with lower value oxidisers such as ozone, or single-approach processes like ion or ultraviolet. Airofresh uses the water vapour in the air to fuel its air purification process, resulting in outstanding Infection Control and noticeably clean air.
Water is a substance that contains the necessities of the best oxidisers – oxygen and hydrogen – which are vital to Airofresh's air purification process.The patented technology uses electric fields and magnetic fields of particular frequencies that create the required effect on the water vapour. Airofresh utilises electromagnetics and other processes to enable the activated atmosphere.
A series of processes enable the Hydroyxls (OH-), Hydrons (H+) and single oxygen (O-). These highly reactive oxidizers have a very short life (<1 second) and are constantly renewed, enabling the outcomes described within the unit.
The unit utilises a series of complementary processes, including low-frequency electromagnetic (LFPEMF), ultraviolet germicidal irradiation (UVGI) photon lamp, catalytics and ionisation. Due to its innovative design and novel technology that eliminates the need for replacement filters or harsh chemicals, Airofresh is commonly considered one of the best air purifiers on offer.
AF4000
Install in big air-handling units to activate airflow through multi-storey or large facilities.
Suitable for warehouses, multi-storey facilities, corporate buildings.
AF1000
Retrofit to existing ducted HVAC systems or externally mounted near air intake for ducted systems.
Suitable for use in schools, open-plan office spaces and retail.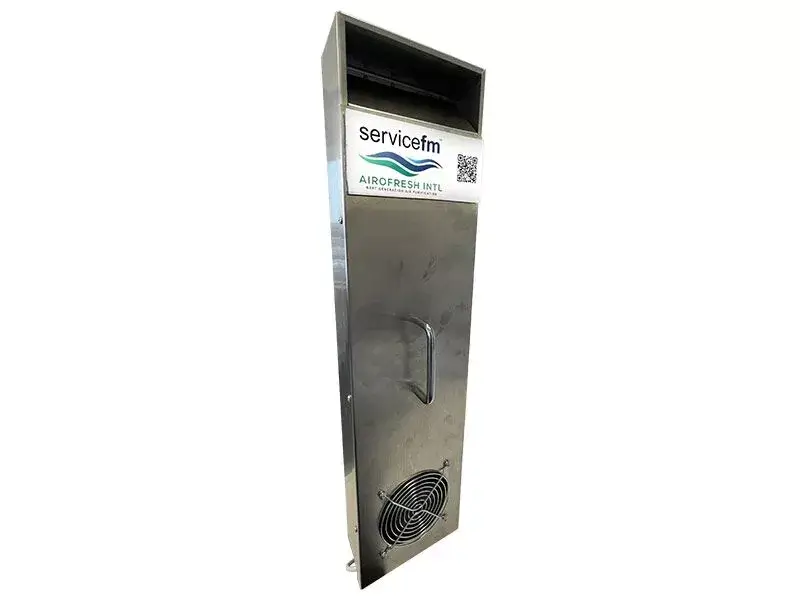 AF500
Suitable for transport such as ambulances, buses, trucks.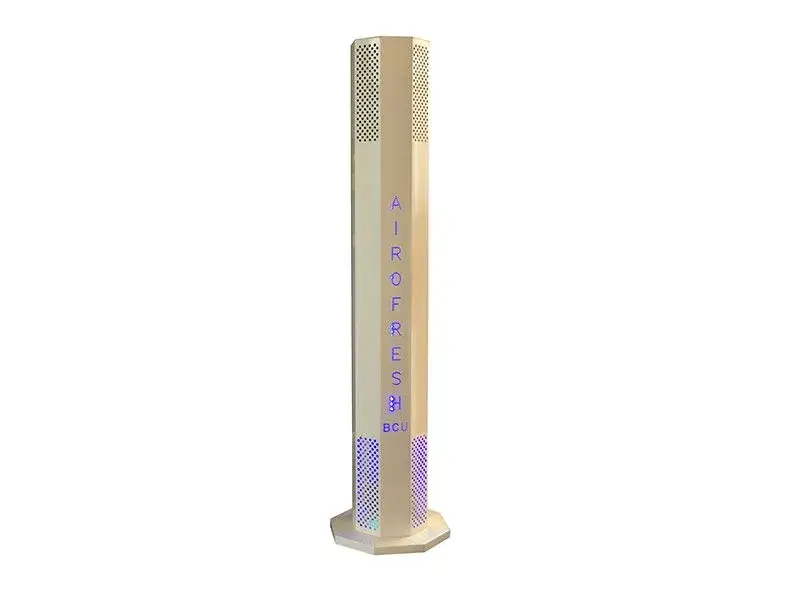 BCU
A standalone unit that is portable and can be used anywhere.
Popular purchase for office spaces, classrooms, medical consultation rooms.
| | | | | |
| --- | --- | --- | --- | --- |
| | | | | |
| | | | | |
| | | | | |
| | | | | |
| | | | | |
| | | | | |
| | | | | |
| Water-vapour sterilisation: | | | | |
| | | | | |
| | | | | |
| | Mould, dust, bacteria, viruses, ozone | Mould, dust, bacteria, viruses, ozone | Mould, dust, bacteria, viruses, ozone | Mould, dust, bacteria, viruses, ozone |
| | | | | |
| | | | | |
| | | | | |
Made in Australia. Enviro footprint: Low – reduces ambient CO2, fully recyclable (no filters), carbon neutral.
Where can
Airofresh Air Purifiers be installed?
Airofresh air purification technology has a broad range of possible applications, including in:
Early learning and child care centres
Aged care centres
Medical facilities
Fitness centres
Food production and storage facilities
Cold rooms
Laboratories
Veterinary clinics
Airofresh air purification units can be adapted to almost any setting.
What is the advantage of an
Airofresh Air purifier?
Airofresh air purifiers deliver exceptional air quality using innovative, Australian-made technology. Cartridge filtering is a type of filtration used in conventional air purifiers to capture and store contaminants. This approach has several flaws, which result in frequent and expensive filter replacements. This can be burdensome for businesses with limited resources. Airofresh air purifiers only require an annual maintenance and do not rely on:
UV filter(s)
Hepa filter(s)
Activated carbon filter(s)
Or ozone filter(s)
An Airofresh air purifier offers three-way protection against physical, biological and chemical contaminants. This means that an Airofresh air purifier successfully removes ozone, chlorine and ammonia, heavy metals, exhaust emissions, hay fever and asthma triggers, pet dander, fungus, mould spores, viruses and bacteria to create cleaner air.
Nature's own
Infection Control
Airofresh air purifiers use very little power and function by engaging existing environmental factors to fuel their process. These existing natural sources (water vapour already in the air) create an environment where the atmosphere effectively cleans itself, providing nature's own Infection Control.
The practical application of science and engineering surpasses the outcomes of traditional biological and chemical Infection Control solutions that leave behind residue and require costly upkeep.
Independent public testing of Airofresh air purifiers by Flinders University showed a 99.9999% removal of the highly destructive MS2 virus, first pass (immediate), making the system comparable to hospital grade true HEPA.
Additionally, it Airofresh air purifiers pass 13-log eradication, which is a globally recognised surrogate testing virus for eradicating COVID-19 (SARS CoV 2).
Carbon monoxide – does not create;
Airofresh Air Purifiers
have many benefits
Destroys Airborne Contaminants
Volatile organic compounds (VOCs), bacteria, viruses, fungi, mould, cigarette smoke, pollen and other toxic substances, including gases such as exhaust fumes, ammonia and ethylene, don't stand a chance against Airofresh's advanced air purification system.
Removes Odours
Cleans the environment of toxic gases and unpleasant odours. Removes Microbes.
Airofresh's advanced technology removes 99.9999% of harmful viruses and bacteria, while maintaining natural ions and enhancing air quality.
Substantial Cost Reductions
Cheap to install and run because there are no filters to pass through.
Airofresh air purifiers destroy contaminants, it is not just a capture and store system.
No fitting or retrofitting
Workplace
Reduce disease, cross contamination and health risk with a purified and sterilised atmosphere.
WH&S benefits for workers.
Home
Protect your family and create a safe place to be with purified and sterilized air to breathe.
Commercial
Infection Control for all who enter your facility.
Safe, healthy and protected.
Create a unique atmosphere where people want to be and feel safe.
HVAC Unit Installation
Airofresh technology has been adapted for use in parallel with an existing HVAC/reverse-cycle ducted system.
The unit will work with the existing system to ensure the air is clean and comfortable.
The Airofresh ducted system can also be used in an independent installation to process the shared air in any environment.
Frequently Asked
Questions